DeWitch Cutout Text Topper and Background Tile Tutorial
This tutorial was first written as a PSP script by me - it is completely my doing - any resemblance to other tutorials or scripts is purely coincidental.
This tutorial can be done in PSP 8 - 9 & X
Things needed:
We will be making a stationery topper and background tile like this

Open desired tube and copy
Open new image (I used) 1024 x 394
you may make the height less if you choose
Choose a pattern, gradient or color and fill your new image
Select all - paste into selection
Gaussian blur - your choice (mine 27)
PSP Art Media colored chalk - your choice (mine detail 45 opacity 12)
PSP Distort twirl - your choice (mine 363)
PSP Texture - your choice -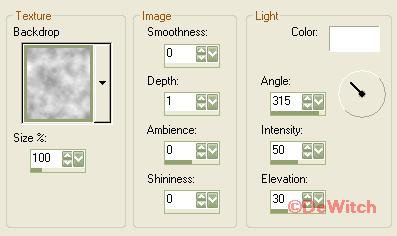 Add a 6 pixel contrasting border at the bottom
Select with magic wand and fill with color of choice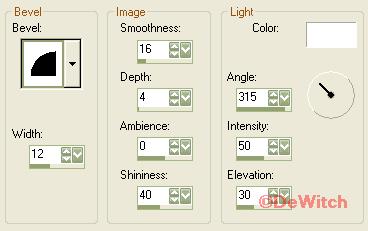 PSP image effects seamless: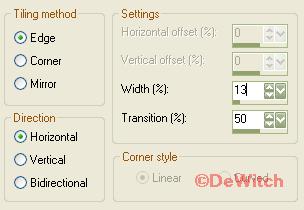 Paste your tube as a new layer - move into place
add a dropshadow if desired
NOW THE TEXT
Type your message and resize if needed and move into place
bigger is better so the cutouts show more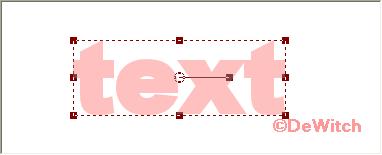 duplicate your text layer and turn off the top one
and select the next one
now go up to selections and click on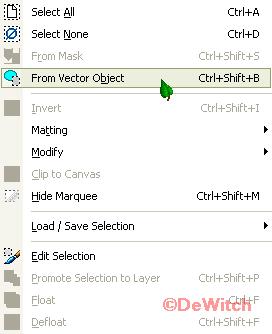 your text will now look like this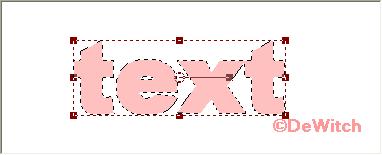 hit your delete key then go to your bottom layer and making sure it is a raster layer
if it isn't "promote background layer"
hit your delete key again and select none

now go back to your top layer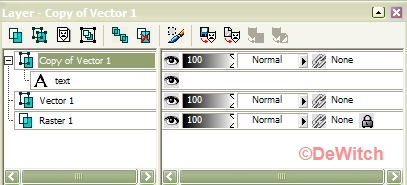 and double click the text layer to reopen the text box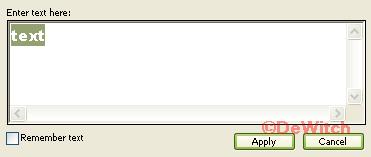 turn off your background materials (fill)
and your text will look like this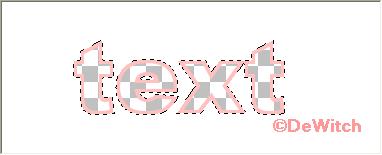 inner bevel (same setting as above)
and it will look like this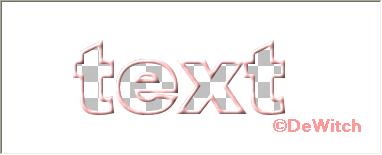 merge visible
Save as a transparent gif
I copy & paste to the animation shop & save from there for better quality image
(it is a big file unfortunately unless you optimize a lot and then the image is degraded)
The background tile is really your choice to do as you please
It does need some detail to show thru the cutouts though
I pasted the tube as a new image
filled with the same gradient I used on the topper
Distort twirl (363)
Texturizer: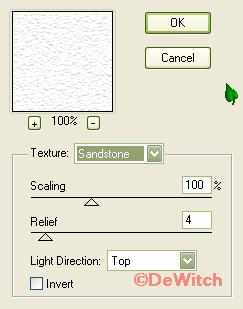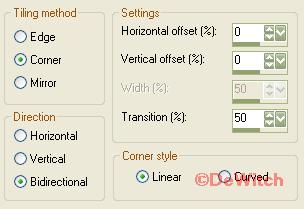 A complimenting solid color tile that is textured would also work well
I wrote this tutorial AFTER I created a script of this :} DUH
If you like my tutorial please share your results with me:)
Hugz,
DeWitch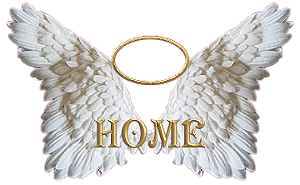 DeZignz by DeWitch ©2006
*©Tutorial written & dezigned by DeWitch 2006
This tutorial may not be downloaded for any purpose other
than to follow the tutorial. If you're a Moderator of a group,
please e-mail me before adding this tutorial to any lessons, etc.
When you do have my permission..... only a text link is allowed.
My tutorials are not to be sent in any mailing list

"Site best viewed with 1024 x768 screen resolution"