AT THE MOVIES
by DeWitchez Kidz
~~~~~~~~~~~~~~~~~~
On a warm autumn day, Boo, JJ and Magick are looking for something to do
and a cool place to do it. That's when Boo suggests a movie.....

Boo: Hey guyz - wanna goze to a moovy wiff me?

Magick: Wat dey showin at da featre?

JJ: OOH,OOOH!!! I is hear dat Puss In Boots is plays
at da moofie house in town.

Boo: We alwayz see wat yu two wanna see.
How bout we go see Lady an da Tramp?

Magick: She rite - we is seed Puss In Boots six many times.
I gess it her turn.

(SO THEY ALL GET IN MEOWMIE'S JEEP AND HEAD FOR TOWN)
(THEY EVEN TOOK THE TOP OFF!!!)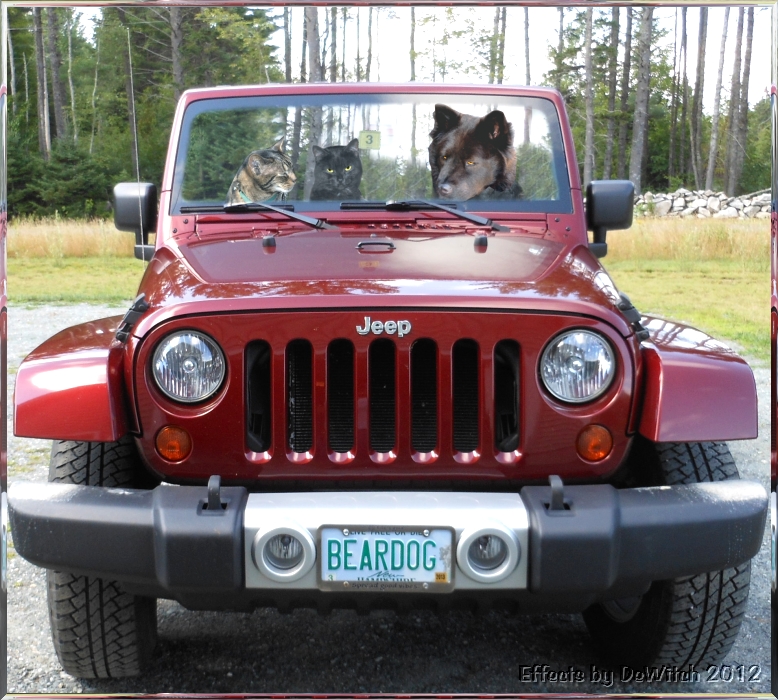 JJ: Hey Boo, how comes mew alla times drifes wen we goze sumwheres?

Boo: Cuz I da only one bigg enuff to seez out da winder an still workz
da gaz an brakez!!

Magick: Wells, JJ, she rite again -less, we is bofe drife at one times.
One a us ken works da pedels an da offur one steers??

JJ: Oh, I wanna steers!!

Magick: But it my idear, soze I shud gets to steers!!

Boo: Wud yu boyz pleeeze stop argues! We almose dere
an I eggspeck yu to beez kwiet wen we getz inside!

JJ: Looks - we IS here!!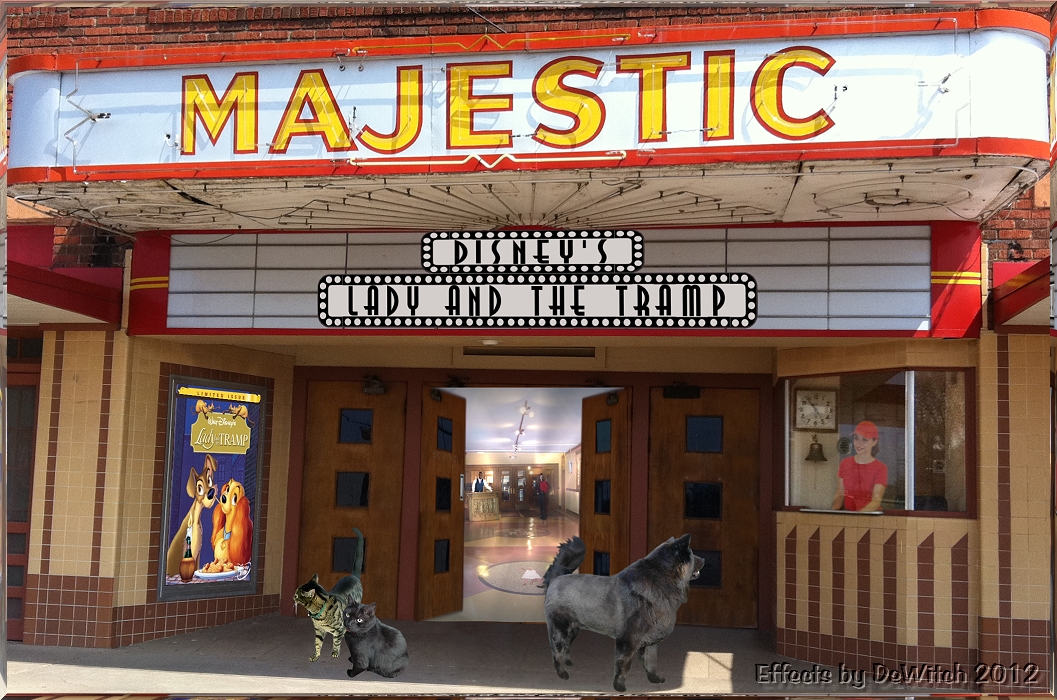 Magick: Led's stop at da freshmends furse!!

Boo: OK - I gonna goze get ar tickies.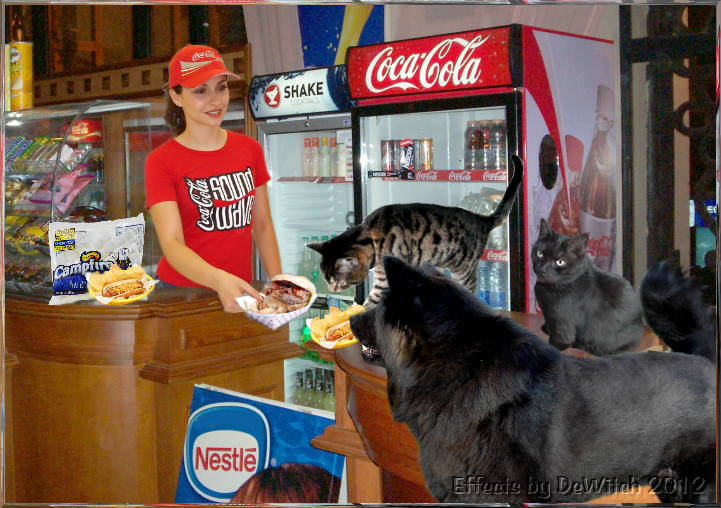 Boo: I wud like a dubble cheezeburgur wit bacons on it, pleeze.

JJ: I fink I wills haff a hot doggie wiff sum toonas on top, purrlease!

Magick: Yumm - all dat soun gud. I wud likes one a each fing dey gots
an a bag a mushmellows to munches wen da moofie get boring - mewhehe

Boo: Reddy boyz? Led's go to da mezzfurnine an see iff we ken getz
front row seetz.

JJ: Looks - nobuddy sittin in doze frunt rows seets - led's grab dem.

(THEY SETTLE INTO THEIR SEATS, START EATING THEIR TREATS & WAIT FOR THE MOVIE TO START)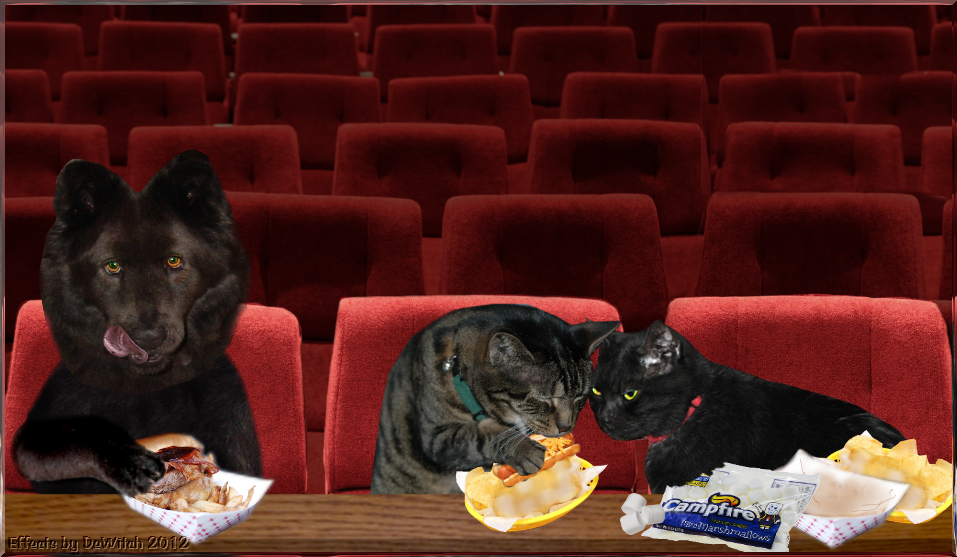 JJ: Heys Magick - eats mewr own fude!

Magick: I is alreddy eated my fude. Ken I jess haff a bite?

JJ: Mew is eated a hole hamfurger an a hole hot doggie?
All I gots is one hog doggie an I wanna eats it!!
Gets away frum me an my fude.......(shove)

Magick: Oh noze - look wat mew did!! Mew is nock my bag a mushmellows
rite offa my seat an dey is spil offur da edje a da railin!

Boo: Wat are yu boyz doin now?

JJ: Magick is tries to eats my fude!!

Magick: JJ is spilled my mushmellows!!

Boo: Wud yu boyz jess be kwiet an mine yur own buzness! We ken take
care of all diz later - affur da moovie!!

Magick: (grumble grumble) I gotta goze to da lidderbox,
I beez rite bak.

( BY NOW, THE MOVIE IS ALMOST OVER, AND MAGICK STILL HASN'T COME BACK)

JJ: LOOKS LOOKS - down dere!!!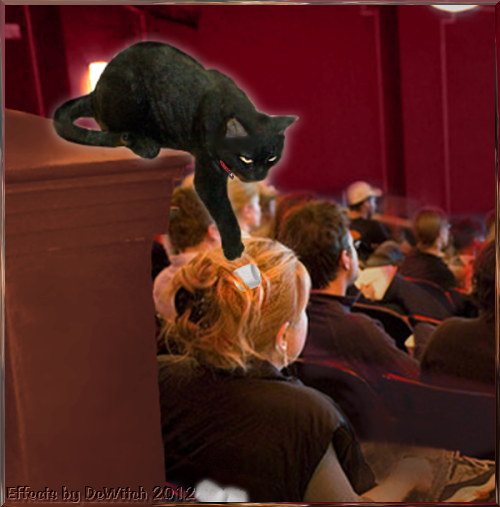 Lady: EEEEK!!! - What are you doing to my hair?
USHER - USHER I NEED HELP!!

JJ (yelling from above): HEY MAGICK - MEAT US IN DA LOBBY! HURRY!!!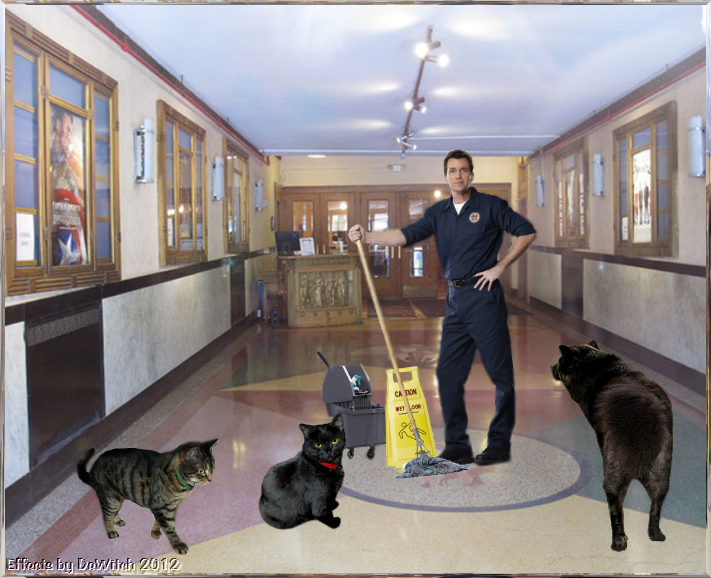 Boo: I jess cannut take yu boyz anywheres! If one a yu isn't get in
trubble, da offur one is!! Wen I gonna lernz to go by myownself!!

Magick: I sorry, Boo
(TO THE JANITOR STANDING NEXT TO HIM)
Mews sir, I wud appurciate it iffen mew wud sweeps up my mushmellows
I wills be bak in da mornin to picks dem up - DONUT eats any a dem!!
~~~~~~~~~~~~~~~~~~
This story is dedicated to Jasper Jax, who went to Rainbow Bridge
August 10th, 2012, but remains in our hearts forever.
~~~~~~~~~~~~~~~~~~